Three Proven Ways to Organize with Calm and Take Charge of Your ADHD Now!
Do you feel frozen when you walk into a cluttered room?
Do you tend to forget where you put important items?
Does deciding on what to do with your stuff overwhelm you?
Has getting organized been a challenge for you most of your life?
If so, you may be facing "chronic disorganization." When you live with ADHD, it's not uncommon to feel stressed, burdened, and overwhelmed when you encounter this persistent, long-standing disorganization.
Chronic disorganization can lead to challenges with:
• academics
• work-related projects and goals
• decision-making
• perfectionism
• procrastination
• shame and low self-esteem
• sleep
• excessive internet usage or other types of escapist-type behaviors

... which can undermine your quality of life.
Chronic disorganization is not a medical problem, but it can be prevalent when you live with ADHD, clinical depression, anxiety, obsessive-compulsive disorder, and other mental health conditions.
If you or someone you love has been struggling with organization, it doesn't mean there is something wrong with you. It means it's time to start working with your unique brain, so you're not buried under a pile of chaos, stress, and overwhelm.
Hope is here! Organizing is the ability to constructively arrange your things, responsibilities, and activities and is a skill you can learn.
Here are three proven ways to organize with calm and take charge of your ADHD now!
Crack the Code of Your Working Memory
Have you ever experienced walking into a room, and forgetting what you're there for?
Working memory is the ability to keep multiple pieces of information in your mind while doing something with that or other information.
Quick Tips:
• Write an organizing plan. What are your goals? Do you want to pick up the clothes on the floor? Sift through old items? Donate? Clean off the desk? Organize your papers?
• Survey the room. Taking a photo of the room will allow you to gain some perspective on what may need to accomplish. It can also give you a sense of how far you've come once you make progress.
• Jot down each step and pick one at a time to work on in fifteen-minute increments to start with.
• Reward yourself for your accomplishments.
Shift from "Lazy" to Less Effort
For those who know me, I'm not a fan of the word "lazy," because of the negative connotations implied. When you live with ADHD, the key is to manage your energy levels.
When organizing, give yourself permission to expend less effort, which can inspire more streamlined routines and superior follow-through with what's important to you.
Quick Tips:
• Keep the daily items you use close by, without the need to search, lift or bend. For example, morning meds can be kept right at your bedside, with a water bottle ready to go.
• Items you use often can be kept where you use them. For example, your dishes can be stored near your kitchen sink where you wash them.
• Store files you don't need frequently in a place that is not a prime area. For example, historical tax and financial files can be stored in a basement or garage drawer or at an off-site storage area.
Organize, Optimize, Take Charge of Your ADHD Now!
I'm thrilled to introduce my new video course, Organize, Optimize, Take Charge of Your ADHD Now! This course demystifies organizing with ADHD with easy-to-understand strategies where you will:
• Discover how to shift your organizing mindset, such as the shoulda, coulda, woulda's that may spin through your brain
• Learn the organizing challenges characteristic of ADHD, their impact, and strategies to overcome them
• Target specific systems and strategies for organizing with ADHD and the keys to making them stick
• Gain the secrets of a new ADHD-friendly toolbox of organizing information that you can turn into lasting transformation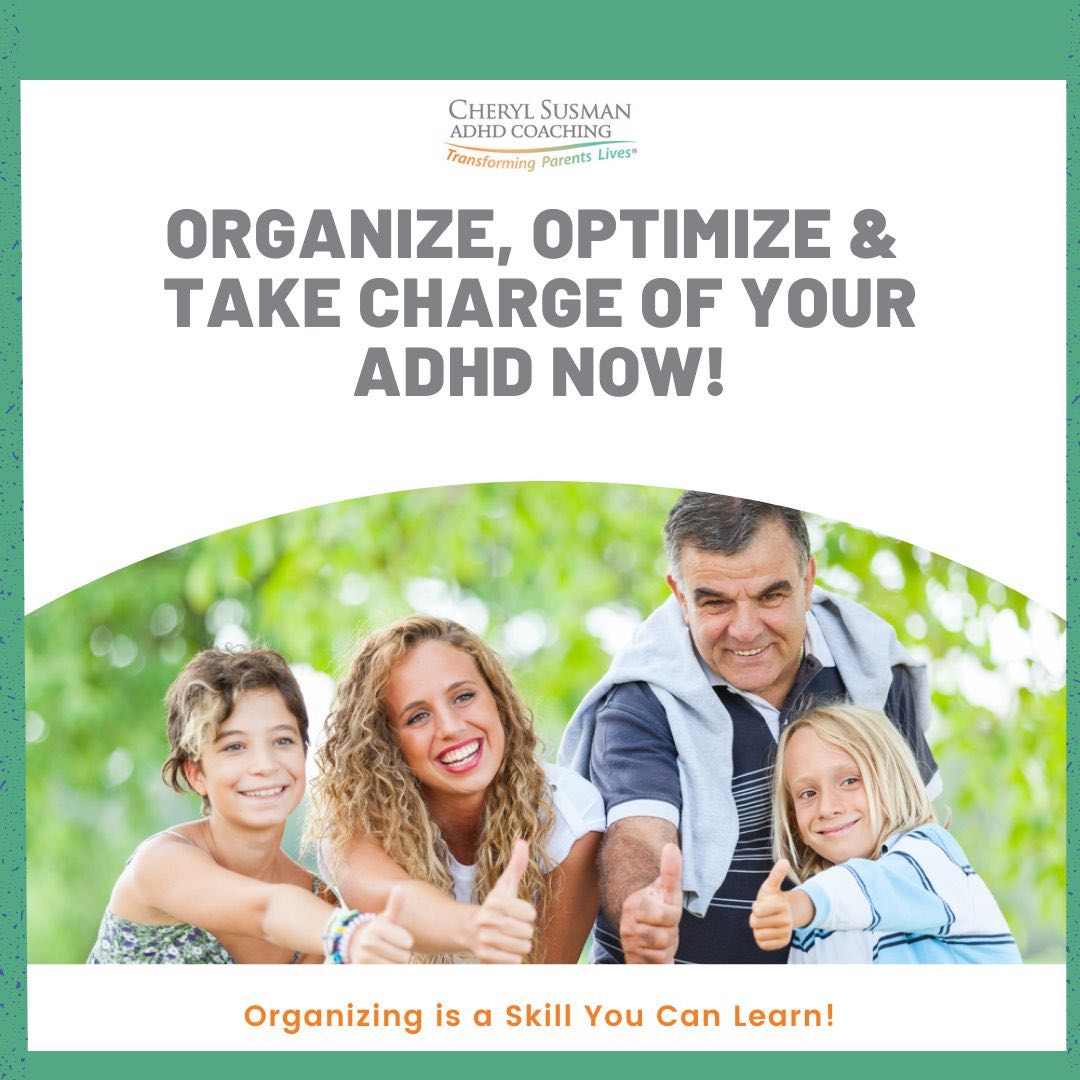 Come on over to Organize, Optimize, Take Charge of Your ADHD Now!
See you in class!
Four Informative Ways to Select and Really Benefit From Therapy or ADHD Coaching
Three Promising Ways to Accomplish Multiple Tasks Every Day with ADHD