Organize, Optimize and Take Charge of Your ADHD Now!
Reduce Stress, Boost Confidence, Get Organized
Are you tired of trying tons of organizing systems and nothing seems to work? Maybe you've thought or been told that because you live with ADHD you just can't be organized.
Living with ADHD and related co-existing challenges can tough, whether you it's you or a loved one who has these challenges. Getting and staying organized can be exhausting, stressful and overwhelming.
If you're feeling paralyzed when you walk into a room, or feel like you're barely making progress, you may find you're perplexed about how to change things.
I want you to know that if you're struggling with organization there's nothing wrong with you! Skip down to Event Details and Registration
You have everything you need inside of you to get and stay organized. All you need is some guidance and training to work with your unique brain to live the organized life you want: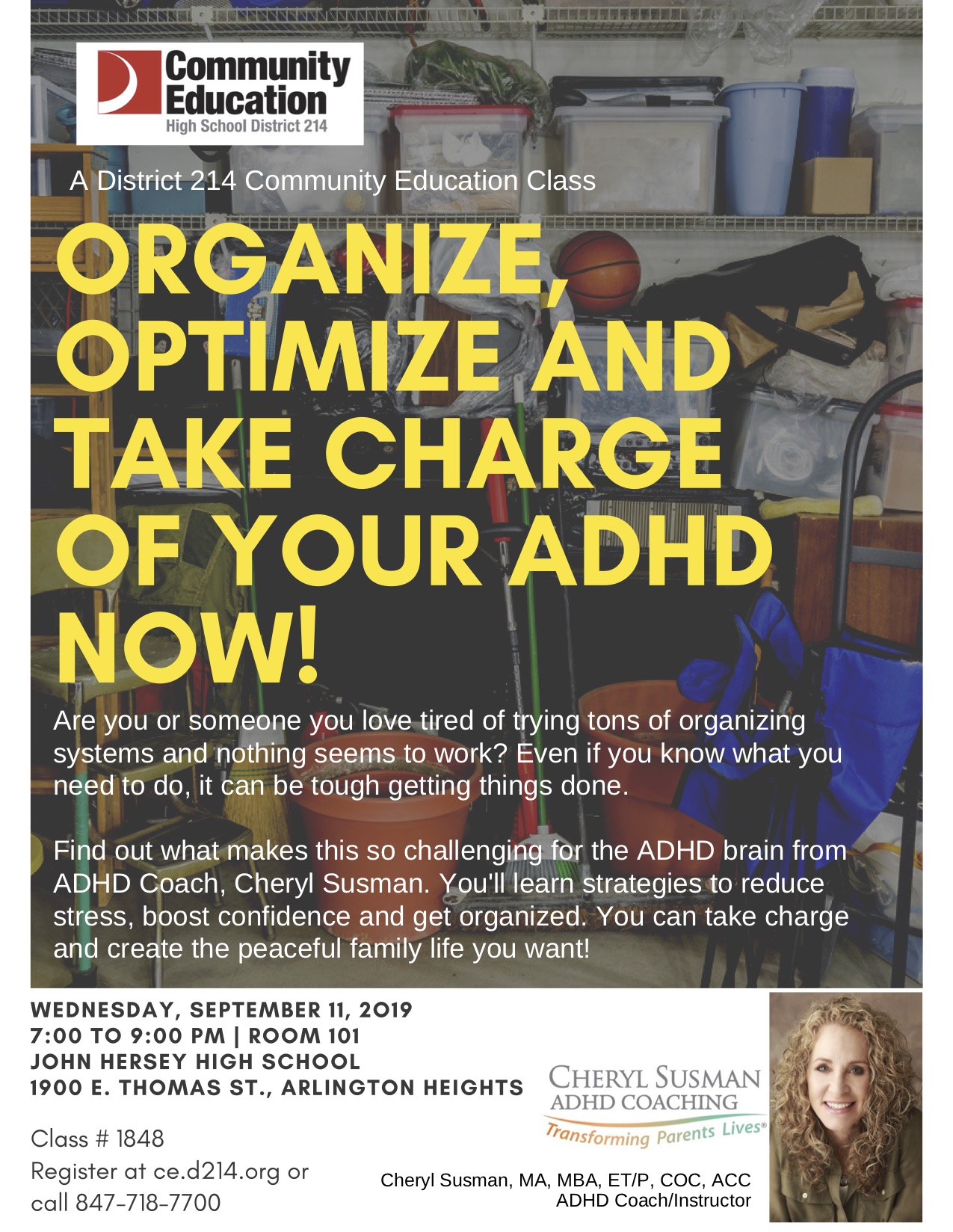 Your Solution to an Organized and Peaceful Family!
Organizing is a skill you can learn. You'll come away with organizing solutions that work specifially with the ADHD brain.
In this special program you will:
Come away with concrete steps to get started!
Discover your strengths for managing schedules and time
Minimize clutter and streamline paperwork
Work with your brain to stay motivated
Gain clarity about next steps to maintain organizing success and more!
Organizing does NOT have to be such a challenge anymore!
When:
Wednesday, September 11, 2019
7:00 p.m. - 9:00 p.m.

Where:
John Hersey High School
1900 E. Thomas Street
Arlington Heights, Illinois 60004
Register Now!
$15 per person