Sanity School™ for Parents Live - Chicagoland
Communicate with Confidence, Minimize Meltdowns, Motivate for Success
As parents of children with complex needs, we have a lot in common. If you're anything like me, you know that parenting is one of the most important jobs of your life. Although parenting in general can be challenging, when you have children with complex needs, everything can feel so much harder!
If you're feeling alone, angry, stressed, scared, and that your life has taken a back seat to your child's issues, you may be at a loss to change things.
I want you to know it's going to be OK! Skip down to Event Details and Registration
You have everything you need already inside of you to help your kids become the independent, successful people you know they deserve to be in whatever way is right for them. All you need is a bit of guidance and training to help you: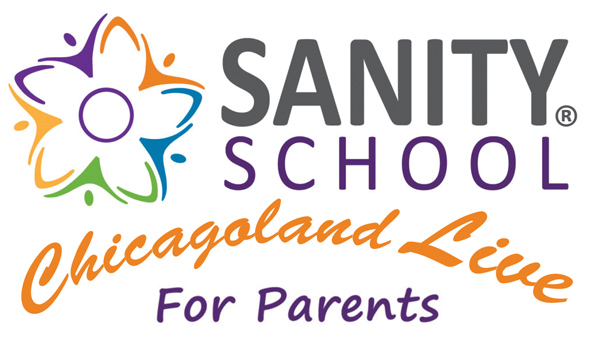 Your Ultimate Guide to a Peaceful Family!
Sanity School™ for Parents is the best place to start for any adult looking to get your head around managing the challenges of complex kids! It's a fundamental education for applying a coach-approach in to parenting in your daily lives.
Sanity School™ for Parents/Chicagoland is a three-morning workshop. We meet three consecutive Saturday mornings and cover two modules each day, with a short break in between. It's a wonderful opportunity to reflect, get some insights and exchange ideas with other parents who are experiencing similar challenges.
Each module is designed to radically improve the lives of parents living with children with ADHD, learning issues and related challenges. This realistic, practical coach approach to parenting provides parents with complex kids with tools to be happier, more confident and successful in their parenting.
In this special program you will:
Notice that your child is happier and you will be too!
Understand how you can help your child grow into a mature, responsible adult
Feel more confident that you are doing all you can to help your child
Reconnect with your child and have a great relationship once again
Gain clarity about next steps to effectively guide your child to independence and success
Rediscover the joy of parenting and so much more!
By participating this live workshop, you will also receive:
A weekly email roundup with additional resources to guide you through the program for two months (after the first class)
Access to a members only private forum
Recordings of an online class that you can listen to again and again
Access to monthly group Parent Lifeline Q & A calls with a coach while you are starting out the program (2 months)
A workbook with key information, tips, handouts, exercises and a journal to help you keep track of your progress.
… And more!
Sanity School™ for Parents Live, Chicagoland includes a class on Executive Function with a worksheet for direct and immediate application, teaches you how to shift expectations without lowering them, and how to create effective systems and structures that really work in complex families. No more one-size-fits-all-star-charts - take Sanity School™ for Parents Live, Chicagoland to understand how complex kids are showing up in your world, and how to begin to approach them in a more empowering, effective way!
We are proud to say that Sanity School™ for Parents Live, Chicagoland is the first of its kind in the Chicago area. A program of IMPACTADHD.com, Sanity School™ for Parents has made a profound difference in the lives of thousands of families, including mine, and has helped us all discover that a life with ADHD and other complex needs can be just as wonderful as any other, if not more!
---
Complex Kids do NOT have to be such a challenge anymore!
Join us as we reveal proven methods for turning chaos into calm
Join thoudands of parents around the world to learn these proven methods for turning chaos to calm. The American Academy of Pediatrics (AAP) recommends Parent Training as front line treatment for Parents of kids with ADHD and other Executive Function issues. Sanity School™ includes:
6 modules teaching a "coach-approach" to parent management
12 weekly accountability emails & 6 "office hours" calls with a coach
3 months of access to a private, professionally-moderated forum
Workbook/journalwith curriculum and interactive exercises
Access to class content forever, including recordings.
When:
Saturday, 9:00 a.m. - Noon
September 15, 22, & 29th, 2018

Where:
Northbrook United Methodist Church
1190 Western Ave, Northbrook
Introductory Price:
$245/person
$30 for additional family member
Click Here to Register
Questions?